Maverick is a 12-year-old German Shepherd from Missouri that wandered away from his family home on February 4th, and found himself in a whole heap of trouble.  He survived being buried alive in a sinkhole for 72 hours, and his family is very grateful to have him back where he belongs.
"He had on his invisible fence collar," said Maverick's human mom Lisa Van Valkenburgh.  "But that didn't stop him from walking out of bounds."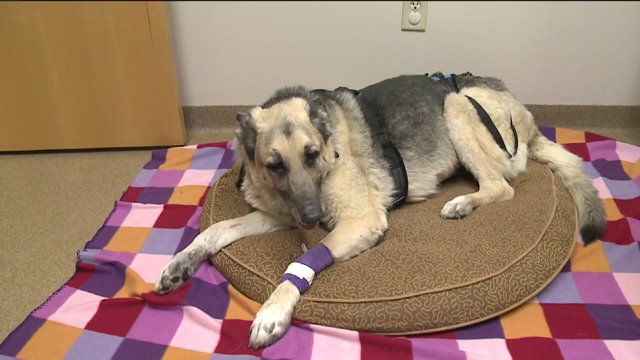 As soon as she realized that Maverick was missing she immediately began to fear the worst had happened.  Being that it's winter, she though that he might have fallen through some ice and into the lake that isn't far from the family home.
"My biggest fear was he had drowned," said Lisa in an interview with CNN.  "I was afraid if he fell into the water he wouldn't have the strength in his legs to pull himself out."
The family searched everywhere.  Even though it was slow going, and no one really knew where Maverick had gone, they refused to give up hope.  They searched high and low, and finally, they found a clue to his whereabouts.
It really wasn't so much a clue, as it was a sound, but they thought that they heard a faint howl coming from underground.  At first they thought that maybe he had fallen in a ditch, and was stuck in a drain pipe.  Lisa jumped down into the ditch frantically, and was searching for Maverick, when someone that was passing y in a vehicle stopped, and mentioned a sinkhole at the side of the road, down a little way from where they were.
Sure enough, stuck in the sinkhole was Maverick.  The family's first instinct was to begin pulling him out of there right away.  However, in an effort not to make things worse and perhaps have the sink open even further, they called in rescue crews for assistance.
Emergency Services worked for over two hours trying to free Maverick from the muck and wet clay he was stuck in.  Eventually, they got him free by digging out from underneath him, releasing the suction that the clay and mud had on him.
For the next three days, Maverick would find himself in a local pet hospital.  After being fully cleaned up, and having a full medical workup, he was kept for observation for those three days, and also to administer some medications and make sure he was properly hydrated.
It may have been a scary ordeal for Maverick, but he did pull through and make a 100% recovery.  The family is grateful for all of the hard work that the rescue crews did, and for all of the love and care at the animal hospital from the wonderful staff there.  Without all of these people coming together, this story may have had a very different ending.