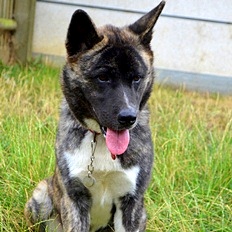 An Akita called Foxy was on her daily walk in the UK when she came across a starving Great Dane puppy in a ditch. Vets believe the dog was only hours from death, but because of Foxy, she is now thriving in her new home. Hopefully someone will adopt this heroine, too!
A volunteer at Battersea Dogs & Cats Home, just west of London, was walking Foxy when the Akita detected something in an overgrown gulley. What she found was a nine-month-old female Great Dane.
The poor girl had been starved and left for dead. She was so weakened that she couldn't make a sound. But Foxy sniffed her out, and the puppy was taken in to the shelter.
She was named Faith after her remarkable spirit and will to live. She weighed 35 pounds, only 40 percent of what's normal for her age. Staff believe that to stay alive, she was eating soil from the ditch.
"Faith is an absolutely beautiful girl who has not lost her spirit despite being so obviously neglected by her owners at such a young age," said center manager Kaye Mughal.
Paul O'Grady, one of Battersea's ambassadors, spent time with Faith while she was in her kennel. He lovingly stroked her feeble frame, and gave her a knitted sweater to keep her warm.
"I couldn't believe my eyes when I saw Faith for the first time. It's sickening to see a dog who has been so cruelly treated at any time, let alone around Christmas," he said. "We called her Faith because that was all she had left when Battersea found her in the ditch, and it was a miracle she was found in time.

"The time I spent with her reminded me of the ongoing cruelty and neglect so many dogs have to suffer, but it made me even more determined to get her back on her feet before Christmas. Now she has been given the best Christmas gift – one that money can't buy – a new home with a loving family."
A woman named Annie Gravett adopted her. She lives on a farm, and Faith will have plenty of room to run once she has recovered.
"Faith was one of the thinnest dogs we've ever seen at Battersea and it was definitely touch and go for a while," Kaye said. "It's amazing to think that if Foxy hadn't have found her hidden in the ditch she may still be there now. Instead, Faith is enjoying her new life with a loving family where she rightfully belongs."
Despite her heroic deed, Foxy is still waiting for someone to take her home. She has been at the shelter for almost a year – half of her life.
"We really hope Foxy can have the same happy ending because she deserves it so much, especially as she's been in kennels for almost half her life and has now saved another dog's life," Kaye said. "The staff here are hoping people will see what an amazing girl Foxy is and her New Year will start in a loving new home."
If you would like to adopt Foxy, please visit Battersea's website.