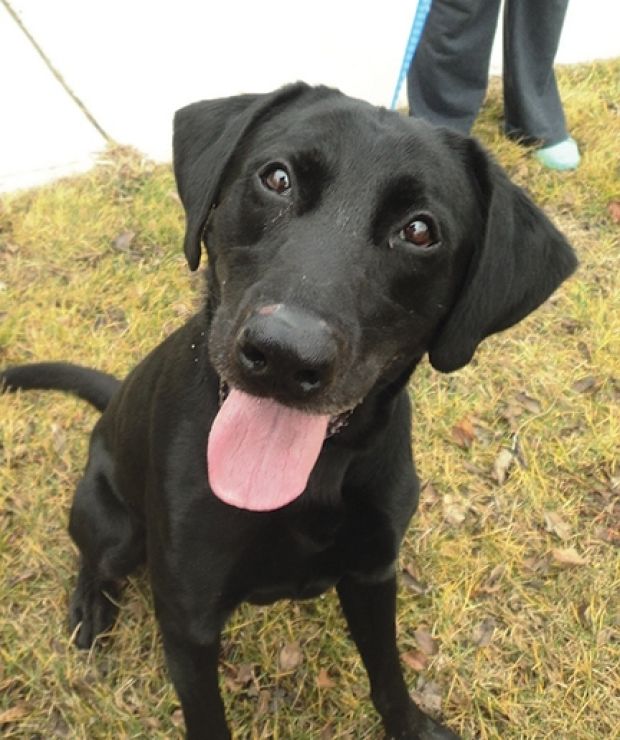 Nairobi was having trouble finding someone to adopt him from the Cedar Bend Humane Society in Iowa because of his high energy. Then last weekend he found the perfect fit for his high energy when he was accepted into a narcotics detection program in Des Moines.
Nairobi came to the Cedar Bend Humane Society in December. He was malnourished, had worms and an injured tail. The shelter got him healthy again and went to work trying to find him a good home. He had a great temperament and excelled at every temperament test given to him. "Really he was a good dog here," said shelter co-director Kristy Gardner. "HE was good with other dogs. He is just so high energy."
That energy kept Nairobi at the shelter and without a family. After three months the staff decided to try to place him in a foster home. As Nairobi was being moved he got anxious and nipped an animal control officer. Now foster care didn't seem like the right option for Nairobi either. "We thought, OK, now what do we do?" Gardner said. "We knew we were not doing him justice just sitting on our adoption floor. We were very frustrated on where to go for him. He is a good dog."
So the staff decided to focus on Nairobi's strength. Knowing how much he loved playing ball they set up an obstacle course in the lobby of the shelter and filmed him navigating the course to get to his ball. They then sent the video to Dennis George, owner of Midwest K-9 Detection & Consulting LLC. For twenty years George has been handling and training narcotics K-9s.
George immediately liked what he saw in the video. "That's the kind of dog I look for, the dog they have the toughest time adopting out, the super high-energy one that just can't sit still," said George. "If I throw that ball 10 times, they are going to go screaming for that ball 10 times. That's the focus I look for." George happily paid the adoption fee and took Nairobi into his program.
Nairobi will spend several months with George training. In the short few days he's been there Nairobi has shown he has the potential to be a great K-9. "His ball drive is incredible," George said. "He would do everything I asked him to do even as he was getting adjusted to me and being in a new environment."
George gets calls several times a month from law enforcement agencies looking for detection dogs. George is careful to place his dogs with the right handlers. "I want to make sure it's a successful team." The staff at the shelter are thrilled that Nairobi has found a future. "We're so excited," said Gardner. "He's off to a hopeful career."