——————————————————————————————————————-
No one will ever know if Castiel was once someone's pet, but what was apparent to his rescuers, who found the mangy, scrawny stray wandering the suburbs of Los Angeles, was that he was frightened, painfully timid and in need of some T.L.C.
Once in their care, it became apparent, though, that Castiel wasn't actually a dog — but a wolf-dog hybrid, which meant that even rehabilitated, he could not simply be adopted out to a forever home. He needed a true sanctuary with the space and funding to care for him. Luckily, his caregivers found one: Colorado's W.O.L.F. Sanctuary, which rescues wolves and wolf dogs, was able to step in and save the 1-year-old.
Post initial vet care, Castiel was housed off-site, in an infirmary where he could heal and gain strength before heading to the sanctuary proper. Staffers were chagrined to find the poor boy was terrified of these strange, new surroundings. In fact, he was so gripped by fear and unease in the presence of humans, he tended to wedge himself into corners just to be as far away from them as possible.
——————————————————————————————————————-
Slowly, as he began to come around, he also began noticing the other dogs.
"Our director had a number of dogs," Michelle Proulx, director of animal care at W.O.L.F. Sanctuary, told The Dodo.
"The infirmary was located at her house and we noticed him getting really, really interested in other dogs. So we knew he was starting to get lonely for canine companionship and wanted to find a companion for him."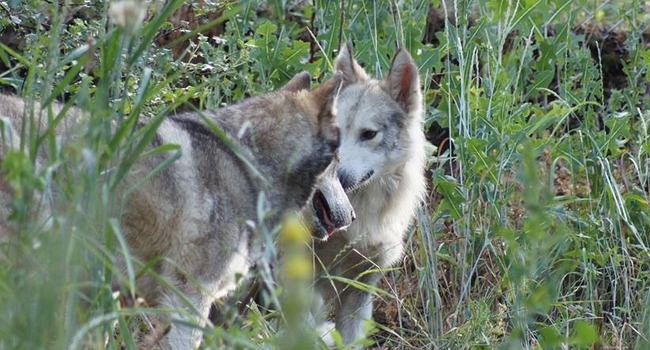 ——————————————————————————————————————-
Castiel's curiosity was a good indicator he was ready to make the move to his permanent home, and so the search began to find him an ideal partner and friend.
Proulx said W.O.L.F. reached out to a network of sanctuaries that deal with wolves and wolf dogs to see if a young female wolf dog was in need of a home.
"We got a hit almost immediately," Proulx said. "This is an indicative of the problem that's out there, that there's so many of them in need of homes."
And so staffers headed to the Grey Wolf Wolfdog Rescue in Wisconsin to fetch Castiel's new friend, a 3-year-old named Tenali.
"They said she was really sweet and that there isn't an animal she doesn't get along with," Proulx said
.
——————————————————————————————————————-
Unlike Castiel, Tenali bubbles with energy. "When we first put them in together, she just wanted to play and Castiel was just a little bit overwhelmed with the attention," Proulx said. "He went from not having much and being alone for who knows how long to having this girl."
While Castiel was standoffish at first, Tenali was patient.
"After a couple of days, he started to realize that she wasn't going to hurt him," Proulx said. "He started to feel more confident in himself and we've been seeing progressively, within the last week or two, that their playing together has become more frequent and more involved."
Castiel, once a parasite-ridden stray is now healthy, safe in a lovely home with a wolf-dog friend to whom he will grow closer as the days pass. It's a beautiful ending to the story, but a new beginning for Castiel.