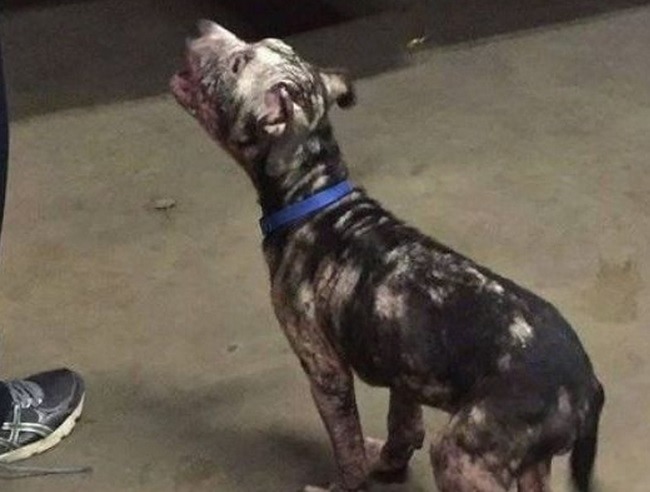 It was a normal, quiet day in East Cleveland, Ohio.  A day not unlike any other for the firefighters of the East Cleveland Fire Department.  Well, everything was pretty normal until a very sick dog came into the fire station looking for some much needed help.
She had a severe case of mange, a very bad skin infection and thickened skin.  She was underfed and in poor physical health all together.  The firefighters knew that they needed to act quickly, and get this dog some medical help right away.
"She followed one of our firefighters around for a couple hours," said East Cleveland Fire Dept. Lt. Mike Celiga.  "She wouldn't leave, so they took her in."
The firefighters called Crossroads Animal Hospital in Strongsville, Ohio.  A volunteer came to pick up the poor, sick dog and take her in.  She is now in the good hands of Doctor Kim Cooper, and all things considered, is doing much better at this point, and is expected to make a full recovery.
The dog had no identification on her.  No tags or collar, and she didn't have a heavy rope or chain tied around her neck like so many other dogs they've seen come into the station for help.
"Unfortunately no tags, no license, no collars," said Celiga.  "Sometimes they have a rope tied around their neck.  It's actually kind of sad, but it's how it is."
Once she is completely healed physically speaking, the rescue group Muttley Crue (to view their website, click here) have said they will take her in.  Once there, she'll be placed with a foster family for the final few stages of her recovery.  She is expected to remain with that foster family while the hunt is on to find her a loving family, and that wonderful forever home that every dog deserves.
She has been described by medical staff at the animal hospital as very sweet, and a very gentile soul.  She's believed to be a five-month-old pit bull mix, and is expected to have some special requirements while in foster care (medication administration mostly).  After that, she should be healthy enough to undergo being spayed and vaccinated.
"You see the dog that's there, you want to say 'eww, gross' and judge, but underneath all that 'eww, gross' is just this sweet beast and a sweet animal that deserves love and care and it's just hard to understand how she could've gotten this way," said Crossroads Animal Shelter veterinarian Samantha Siclair.  "This is a pretty severe (case), and unfortunately, there was obvious neglect to have it get this severe."
This isn't the first stray dog to come wandering into the fire station in need of help.  It actually seems to happen a few times a year.  So, when this dog came in looking for help, they knew just what to do.  Truly, these brave men and women that bravely run into danger while everyone else is running away, and provide a vital emergency services roll not for just people, but for everyone.  Dogs included.