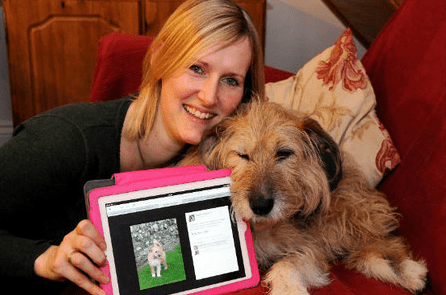 New Year's eve can be a very stressful time for dogs with parties, fireworks, and other strange happenings.  Scrappy was no exception, as he took off in fright during the fireworks in his hometown in Carmarthen.  His family as been searching for him ever since, desperately posting signs and pictures and of course a Facebook page in an effort to track him down.
Their tenacity and use of social media was rewarded finally, when they got a call saying that Scrappy had been found safe and sound about 6 miles from home.  Thanks to the Facebook appeal,  a man who wishes to remain anonymous found Scrappy and was able to reunite him with his family which includes Caroline Fenemore, her husband Sam, and her two young children.
"It was all done via Facebook," said a relieved Caroline.  "It was an incredible response and not just from people I know. He was gone three nights, we were in such a panic, I've been in a real state about it." Scrappy was found that night at 3 am in the rain on a dark road, and if he hadn't been picked up he may not have made it through the night.  He was microchipped but not wearing tags and since it was a holiday his rescuer took him home where Scrappy spent 2 days playing with his dog.
When he saw the Facebook post he knew who to call, and Scrappy was promptly returned to his grateful family.  Caroline said she has learned from this experience, "He was micro-chipped," she said, adding: "but if I'd had a tag with our contact details on his collar that would have saved me two days of hell."