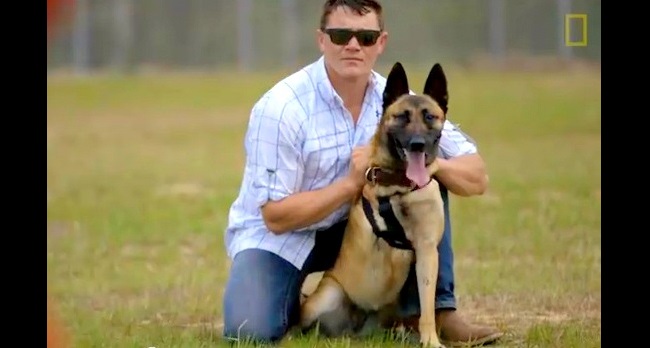 Staff Sergeant Julian McDonald would never leave a brother behind, and military dogs are as much of a brother as anyone else.  That's why he insisted on bringing Layka home after she sacrificed herself to save McDonald and the rest of a mission squad, even though he was told she was unadoptable.
"On the day Layka got shot in May, instantly I felt the sense of urgency to fix her," McDonald said.  "I owe this dog every moment I have from here on out with my son, with my mother, with my family.  I owe her everything."
While on duty in Afghanistan, Layka was sent into a building harboring enemy forces.  She was shot at close range four times.  Though she was badly wounded, she still fought bravely and took down her attacker, saving the lives of the rest of the men on the mission.
So upon his return home, McDonald took the necessary steps to get Layka home.  Her front leg had been amputated because of the shooting, leaving her unable to continue working.  But she was considered too aggressive, and unfit to live in a home with small children.  But McDonald knew her well, and eventually won the right to adopt her.
It wasn't until 2000 that military dogs were allowed to be adopted after they finished being forced to sacrifice their body parts and mental health.  Until then, they were euthanized when they were finished with their service – a practice that is still the norm in the UK.
"It's just disheartening that the people that are sending me out on targets, that are making me fight, call these animals 'excess equipment.'  You can ask anyone that's ever been in a firefight, and somebody has used a dog to save their life," McDonald explained.  "Or you work with any kind of platoon that utilizes a dog, they'll tell you, the dudes who have boots on the ground will say, 'These dogs are just like our brothers, to our left and our right.
"I have a lot of respect for them, because they do stuff that I wouldn't want to do, and I know they do stuff 99 percent of America wouldn't want to do.  And just like us, they deserve to be retired, and we owe it to them."
Layka is now learning how to adjust to normal family life, and she is also teaching her young human siblings how to interact with animals.  They may be rowdy at first, but Layka is patient and tolerant of their roughhousing.  It is a learning lesson for everyone.  But she is happy to finally be home.