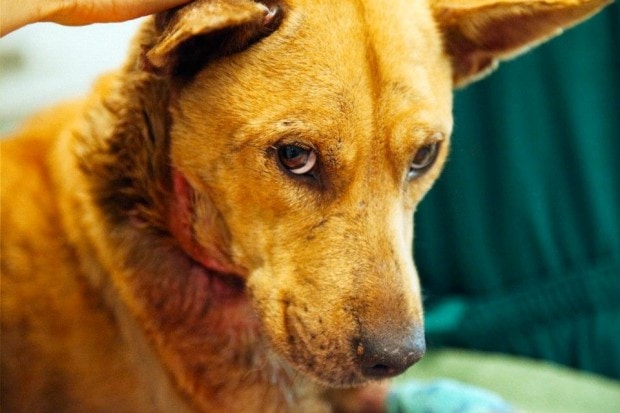 The emaciated shepherd mix found in Dallas with a coffee can encircling her neck is doing well after surgery Monday morning to remove it.  Dubbed Java by the good Samaritans who found her, she has since been renamed Olivia.
Veterinarians believe the can was around her neck for a month, during which time it cut deep into her jaw bone and ear canal, causing her to lose hearing in her left ear.  It appears that her neck tried to grow around the can.  It also cut into her chest, which leaves Olivia at risk of infection.  The next 48 hours of her stay at Animal Allies are crucial in determining her recovery.
"We are mindful that our brave, sweet Olivia is not out of the woods just yet," a message on the Animal Allies' Facebook page said.  "Please keep those prayers, good wishes and healing energies coming her way."
Metro Paws vet clinic, who performed the surgery, said that Olivia was alert and had regained some color.  She's even been wagging her tail.  A board member with Animal Allies said she is doing "remarkably well."
Veterinarians made a shocking discovery during Olivia's treatment:  sometime while ensnared in the can, the starving 1-2 year-old dog gave birth to a litter.  Due to her deplorable health, it is highly unlikely any puppies survived.
Joshua, the dog who kept loyal watch over Olivia upon arrival, is also doing well.  It turns out that he may have only been running with Olivia for a couple days, and may not be "as bonded as reported," according to Animal Services.  Joshua is currently seeking a forever home.
Dallas Animal Services is continuing their investigation.  It is unclear if Olivia may have accidentally gotten her head trapped in a discarded coffee can, but some disagree.
"She did not get that can on her head by her own volition," the Animal Allies board member said. "Someone put that can on her head."
Anyone with information should call Animal Services at (214)670-6800.
Meanwhile, Olivia continues to fight.  She will spend the next week at Metro Paws Animal Hospital, and should be adoptable in about four months.  Her care is expensive, and she needs the public's help.  Donations can be made by visiting  http://www.animalalliesoftexas.org/donations/ or by calling Metro Paws at (214)887-1400.