Stolen Dogs – Have You Seen Them?
A number of stolen dogs have made headlines recently, and in an effort to have them safely returned to their rightful owners, we are hoping that perhaps our fans have seen some of them, or will at least pass along the link to others who may have.
Nine-month-old Bud was adopted from the Nevada County Animal Shelter in Grass Valley, California, and was soon to go home with his new mom, Donna Martinez, but was taken by a tall thin woman driving a white Toyota pickup truck. He is a friendly blue pit bull weighing about 50 pounds. He was on antibiotics at the time he was taken, and needs to have his treatment continued. A $500 reward has been offered for Bud's return or information leading to the arrest and conviction of his thief. If you have any information, please call the shelter at 530-471-5041.
The man who stole Rocky has been apprehended, but the Great Pyrenees is still missing. Donald Kintner took a Jeep Liberty from Bare Shoulder BBQ in Charlestown, Kentucky on August 20, and was stopped after a chase led into Louisville. Rocky was in the back seat, and Kintner let him out at some point before being caught, but did not tell police when or where. There is no photo of Rocky, but the 100-pound white dog looks typical of his breed. He may be loose in Clark, Floyd or Harrison counties in Indiana.

"I don't know what to do," owner Tony Salamone said. "They got the car in the impound yard, but I don't care about the car. I say keep the car and let me get my dog back."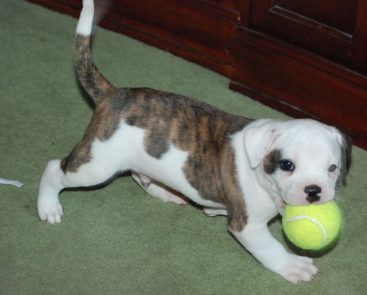 Four puppies have been recovered, but two puppies are still missing from Highland Park, California. The litter of American bulldogs, who were going to be trained to help the disabled, was stolen from the North Figuroa Animal hospital by two men. After intense media coverage in the area, some of the puppies were dumped in the same parking lot they were taken from, but the last two puppies have yet to be found. The mother of the puppies has been very depressed since their disappearance. Information about the puppies should be given to the Los Angeles Police Department.
Sophie the Dachshund and her brother, Cocker Spaniel Fergus, were taken from a boarding kennel in Dwelly Lane, Edenbridge in the UK. Fergus was returned after an anonymous tip, but Sophie, who is microchipped, is still missing. Anyone in the area who has seen her or knows where she is should call 101, reference code TD/13/3683, or call anonymously at 08000-555-111.
The Northwest Territories SPCA has reported the theft of puppy from its Yellowknife, Canada office. The six-week-old puppy is white and fluffy with floppy ears. He hasn't been vaccinated yet, and there are worries that he could contract Parvovirus or distemper. Anyone who knows where the little guy is should call their office at 867-920-7722.