A Rottweiler, once completely unrecognizable from mange, has made a miraculous transformation.   Tiny had been taken to a Taiwanese dog pound to die, but was rescued by someone who knew there was hope for him.  And now because of a little love and care, he has recently been awarded "Best Dog" at the RSPCA dog show, Ruffs.
"When I first saw Tiny he was big, clearly very sick and, we were told, aggressive so we agreed to take him in," said Sean McCormack, British founder of Taiwan's The Sanctuary.  "At first, I thought he was a mastiff, because he was in such a bad state that it wasn't clear to me what breed he really was.
"But my friend Jeff, who has two very lucky rescued Rottweilers, knew right away that Tiny was a Rottie.  His progress was slow but obvious to see, and he turned out to be one of the lucky ones who don't relapse into full-blown mange from time to time."
McCormack credits Dr. Yang of the YangMing Veterinary Hospital in Taipei with Tiny's improvement.
"Dr. Yang is the one to thank for Tiny's amazing recovery, though we also believe that the natural, happy environment we provide and the healthy, raw diet we feed all our animals played their part in his speedy recuperation.
"We knew we could cure him, but were astounded at what a fantastic dog had been hidden beneath the disease and depression that riddled him when he first came in."
Now the dog, who was once so close to death, has won Best Dog in the Ruffs competition.
"We are all over the moon that Tiny was crowned Grand Champion of Ruffs 2014 and hope it serves as food for thought for all those rescue organizations that kill animals like Tiny in order to 'end their suffering,'" McCormack said.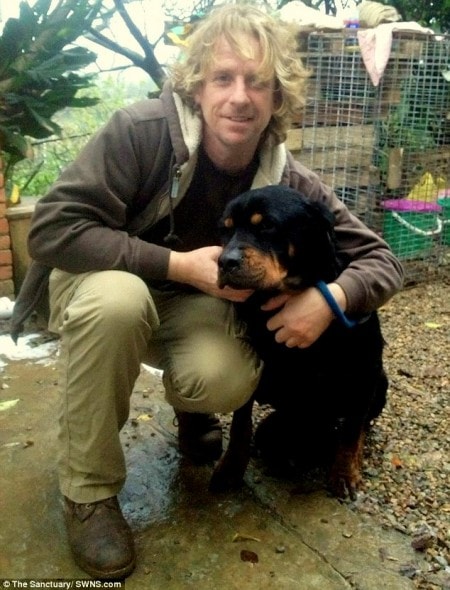 Ruffs isn't like any ordinary dog show.
"We are fed up with dog shows like Crufts judging dogs primarily on looks and rewarding those people still breeding dogs with exaggerated features, particularly as it's those looks which can often cause dogs to suffer," said RSPCA chief veterinary office James Yeates.
"The RSPCA thinks dog shows should prioritize the health, welfare and happiness of dogs over their looks. That's why we launched 'Ruffs' – to celebrate dogs who will never be 'perfect' according to 'breed standards', but we think are champions in their own right, whether they are pedigrees, cross-breeds, rescues or otherwise!"
Now Tiny is being cared for by shelter volunteer Laeila Pereira.
"He looked like he had given up on life. I fell immediately in love with the large, loveable Rottie with an ironic name," she said.  "I moved into a new apartment just so I could adopt him. He is now a beautiful and very well loved dog."
McCormack moved to Taiwan from Folkestone, Kent 15 years ago and founded The Sanctuary so animals unlikely to be rehomed could be cared for.  They take care of pigs who outgrew apartments they were housed in, along with feral cats and dogs with aggression or disabilities..
But now The Sanctuary is under threat of closure, as the landlady has told McCormack she wants to see the property, which would leave 200 rescued animals homeless.
'We are starting an IndieGoGo campaign and hoping to use Tiny's story and Ruffs victory to help bring international attention to our plight.
'We're looking to buy a beautiful 2.5-acre site to give our dogs, cats, pigs, rabbits, squirrels, pigeons, hedgehog, budgerigar, and, very soon, deer a permanent happy home.'
If you are interested in making a donation, you may send money to this account on PayPal:  [email protected], or email [email protected].