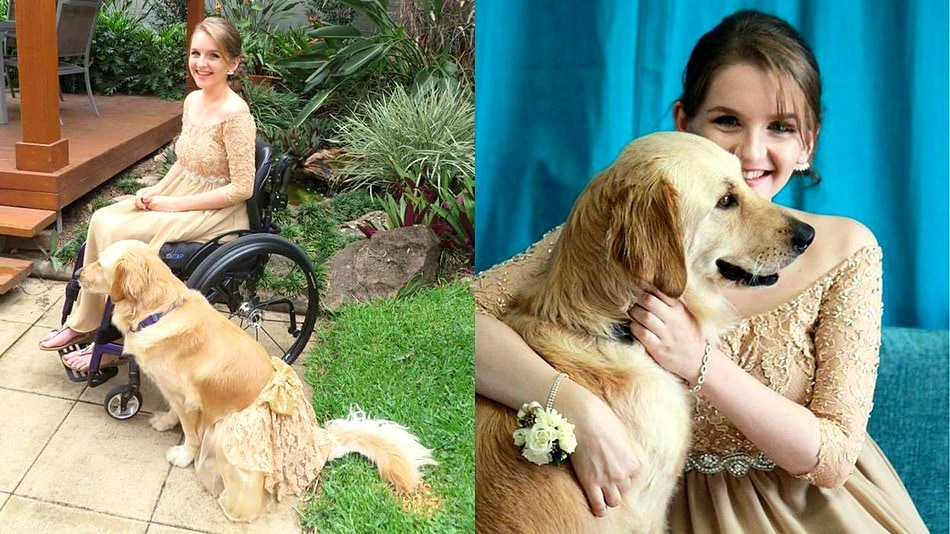 Erin Condrin suffers from EDS, a syndrome that causes her joints to dislocate themselves upwards of 20 times a day, making even simple tasks a struggle sometimes.  But since last year she has been aided by her constant companion, her service dog, Lacey.  The two are so inseparable that Erin even had a little dress made up for Lacey that would match her prom dress.
"I have a rare connective tissue disorder called Classical Ehlers Danlos Syndrome, along with several secondary conditions," the Australian teen posted on her Facebook page Life with Lacey.   "For me, these conditions pose a myriad of limitations – that's where Lacey comes into play! Over the last 12 months my life has changed unimaginably, as a young person this loss of independence was frightening.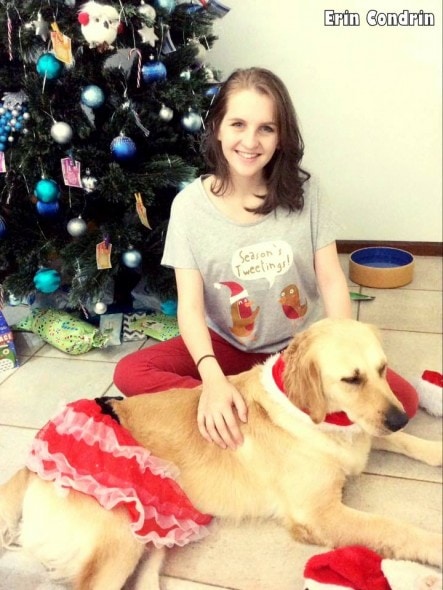 "I am now reliant on crutches and my wheelchairs to move around. Lacey makes life easier by picking up dropped items, opening and closing doors, carrying objects, pressing light switches/buttons and so much more, not to mention her constant friendship. Basically, Lacey allows me to live a life as close to normal as possible…"
And that, of course, includes going to prom.
"Lacey has many different costumes.  So it was natural she'd have a dress that matched mine," she explained to BuzzFeed.  "We asked my very talented dressmaker if she'd sew Lacey a skirt out of the left over material from my dress, and she was all for it."
"Lacey brought a smile to everyone's faces.  The ladies at the hairdresser's took lots of photos and kept giggling whenever they looked over at her."
Though Erin had a great time with Lacey while getting ready, she decided not to bring Lacey; she wasn't sure how her dog would react to the commotion of such a major event.
"We've only been a team for a few months, so I didn't feel ready to take her to an event with a massive crowd and so many flashing lights. I can't wait to take her to formal events in the future, though."