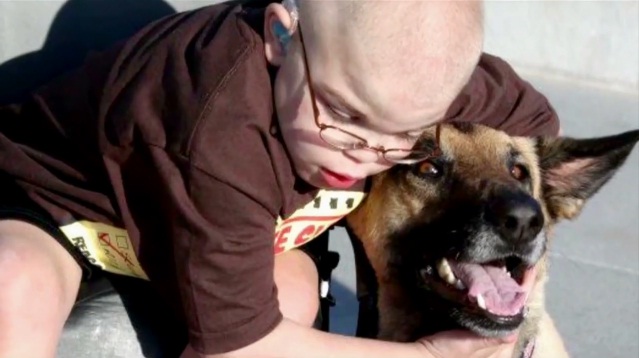 The Hembree family of Tennessee joyfully welcomed home their son's service dog, Juno, after she spent a few days at an animal hospital.  She became violently ill this past Saturday and was being treated for stress-induced colitis.  This illness is common in working dogs.
Five-year-old Lucas Hembree has Sanfilippo Syndrome, a rare genetic disorder that causes severe mental and physical retardation.  Lucas and Juno have been joined at the hip since the day the pair met.
"Juno has always looked at Lucas like he's her pup," Jennifer Hembree said.
Lucas's condition has been deteriorating in the past month, which has stressed poor Juno.  The family has been struggling to stay on top of medical bills for Lucas, and didn't know how they were going to be able to pay for Juno's treatment.  But she was a priority to Lucas.
"Lucas woke up this morning asking about her," Jennifer said.  "He would look at Nicole, his home health nurse, and say, 'Where Juno?  Where Juno?'  You can't tell him she's sick and in the hospital because he doesn't comprehend that."
The Blount County SPCA helped diminish the Hembrees' plight by raising money to treat their poorly dog.  So far over $5,000 has been contributed.
"I feel overwhelmed, but very blessed just knowing that there's still caring hearts and caring people out there that love animals," Jennifer explained.  "Deep down they understand why it's so important to get her better."
Lucas' father was in for a surprise Tuesday night when Lucas and his mother brought Juno home.  Jennifer is appreciative of all the support.
"I'm glad to have her back.  Our family is complete again," Jennifer said.
The Blount County SPCA is still accepting donations for Juno's medical treatment at:
http://blountspcaoperationexpenses.chipin.com/juno