Last Thursday, August 17, 2013, animal rescuers from All about Animals in Macon, Ga., arrived at their shelter to discover three American bulldogs were dead and many other pets were injured. This happened when someone broke into the facility the previous night. They set all pets loose in the yard, and forced them to fight.
When volunteers arrived at the shelter Thursday morning, they found 20 pit bulls fighting and four other missing. Fortunately the four missing dogs were later found roaming the streets nearby.
Mary Crawford, the rescue group's director told The Telegraph that volunteers found several dogs with multiple bite marks.
Amanda Reed, shelter volunteer, also said that a female pit bull was found with serious wounds believed to have been inflicted by a person and not another dog.
"All down her legs are straight-line slices," Reed said. "These are clean cuts. … It's really bad."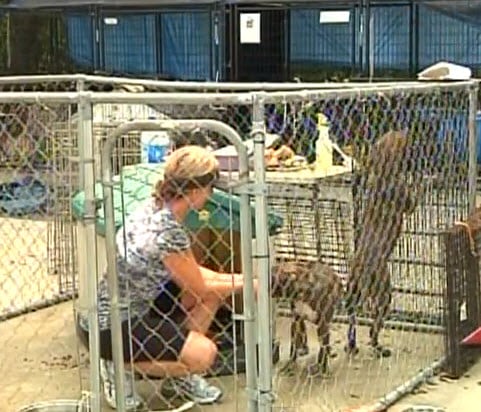 It is unknown how many individuals jumped over the shelter's fenced walls to commit this heinous crime. All about Animals did not have security cameras to catch the criminals in the act, but police officers are investigating and hope to capture the culprit(s) soon.
The community has pulled together to help the surviving dogs. Many dogs will need costly medications to heal from their wounds. All about Animals is also looking for foster homes to allow the pets to recover in a calm loving environment.
"How human beings can do this, I don't understand it," said Patti Jones, chairwoman of Central Georgia CARES, one of the many organization helping with the pets' medical costs. "These are docile and sweet animals, and for them to be subjected to this kind of violence is unconscionable. … It's a sad day for the animals, a sad day for those of us who love them, and it's a sad day to be once again faced with the reality of how evil some people can be."
The three dogs who unfortunately died were Butler, Jack and Flapjack. Butler was a three-legged dog who loved to be held. Jack was sweet, loving and gentle, and had survived being shot before arriving at the shelter. Flapjack was a submissive, playful, and loving dog. He was very shy when he first arrived at the shelter, but he soon flourished into a trusting, loving dog.
All about Animals is asking the community to consider adopting or fostering one of the surviving pets. They also need donation for medication, tarps, poles, gauze, Betadine, Neosporin and blankets. An Online donation can be made through Paypal.
A security camera system is being donated to the shelter but a monthly sponsorship of $25 is needed to cover the monitoring fee.
There is a reward of more than $5,000 for anyone with information about the break-in that leads to an arrest. Please call Macon Regional CrimeStoppers at 877-68-CRIME.