Suzie, the 6-year-old poodle who survived an 11 mile ride stuck on the grille of a car, is back at home with her family. Suzie was struck by a Toyota sedan on September 20th. The driver of the car assumed he had missed the dog when he didn't see her, only to be alerted by another driver a few miles later that Suzie was actually in the grille of his car. The driver quickly pulled over to a police station where cops and animal control workers helped get Suzie out of the grille.
Suzie suffered a concussion, a small cut above her eye and a slight tear in her intestine, but no broken bones or other serious injuries. Suzie did have a microchip, but it had never been registered. Suzie's family had reported Suzie missing to local police in Rehoboth, Massachusetts. However, the incident occurred right by the state line, and the driver had worked with police in Providence, Rhode Island. The family was finally able to locate Suzie when they saw her on TV.
Suzie isn't the only dog who has survived a unique car trip. When Jaime Magana was driving his company vehicle in California he stopped in San Clemente for lunch. After turning off the car he still felt movement in the truck. When he got out he saw fur coming out of the left front tire. When he opened the hood he found a 25-pound dog, "When I opened the hood he looked at me like thank you very much," Magana said. The dog had survived 110 miles riding in Magana's engine compartment.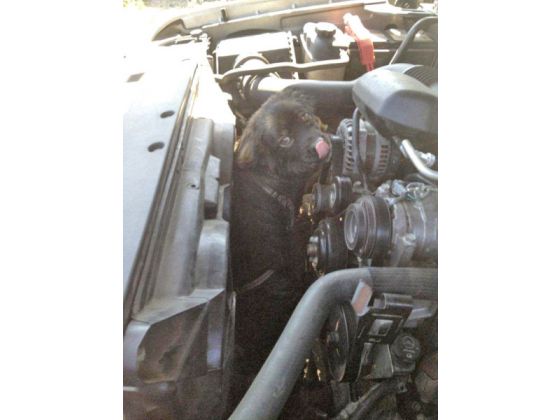 Magana was cautious with the dog, afraid that he might have a broken bone or serious injury. He carefully pulled the dog out and dialed 911. He gave the dog water as they waited for help. Animal-control officer Jill Moran responded and immediately placed the dog, who is being nicknamed "Chevy", in the air-conditioned cab of her truck. Moran noted that she occasionally get calls for kittens in engine mounts but this is the first time she's ever had a dog in an engine. More surprising is Chevy has no serious injuries. Magana is just as baffled by Chevy's adventure saying, "I don't understand how it survived at this temperature with the engine running. It doesn't make any sense."
Authorities are now trying to locate Chevy's owner. Magana, who owns three dogs of his own, had seen the dog around his neighborhood in the past few days but doesn't recognize it as any of his neighbors' dogs. He plans to put up fliers and help find Chevy's owner.