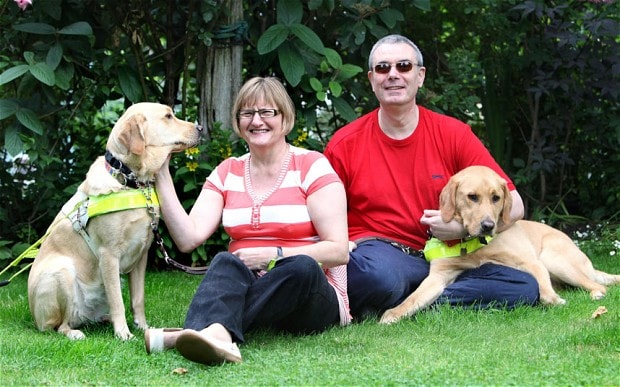 Guide dogs do so much for the people they are paired with. Claire Johnson and Mark Gaffey's guide dogs went above and beyond when they helped the couple meet and fall in love.
Johnson and her dog Venice were in the same guide dog training class as Gaffey and his dog Rodd. The two dogs soon became inseparable, making it inevitable that Johnson and Gaffey would get to know each other.
"During the training our two dogs, Rodd and Venice, seemed to know something we didn't," said Gaffey. "They were always playing together and nuzzling up together."
Gaffey has been blind since birth and Johnson became blind in her twenties due to diabetes. Their guide dogs brought them together and after eleven months of dating they became engaged.
"Now we joke that with every guide dog you get a free fiancé," said Gaffey.
Rodd and Venice are still extremely close and sleep in the same bed. The couple plans to have the two dogs walk down the aisle at their wedding as ring bearers. The couple knows that without their dogs they may have never met.
"It wouldn't have happened if it wasn't for our dogs," said Johnson.