The staff at Angels for Animals had little hope of ever finding the right home for Hope, because she seemed unadoptable. She was big, unruly and didn't like other dogs. But one woman was willing to give this wild child a chance, and now Hope has found her true purpose: as a nanny to her baby sister.
From Angels for Animals:
Never underestimate the the greatness of a dog. We learn this over and over everyday. Hope was at our shelter almost two years ago. She was big and strong and had no manners….but boy was she beautiful. We thought she didn't like other dogs and would never find a home because of her energy and size.
We hoped a big, strong, single guy would adopt her and get her out of her cage and hopefully get her some training. She jumped on everyone and surely would knock little ones over…so no kiddos for her. Well she waited and waited and no one was interested in her.
Then one day this petite, single, twentysomething girl walked in the shelter. She was just looking around….and there was Hope! We told her about all of her quirks and she didn't mind a bit. We said, "sure you can visit with her." We really didn't get too excited because it seemed so unlikely that she would make a connection with this wild child of ours.
Well…..the rest is history. Hope's mommy updates us all the time on how she's doing. She says she has never for one moment had any issues with her at all. She is calm and gentle and just wants what they all want…..LOVE.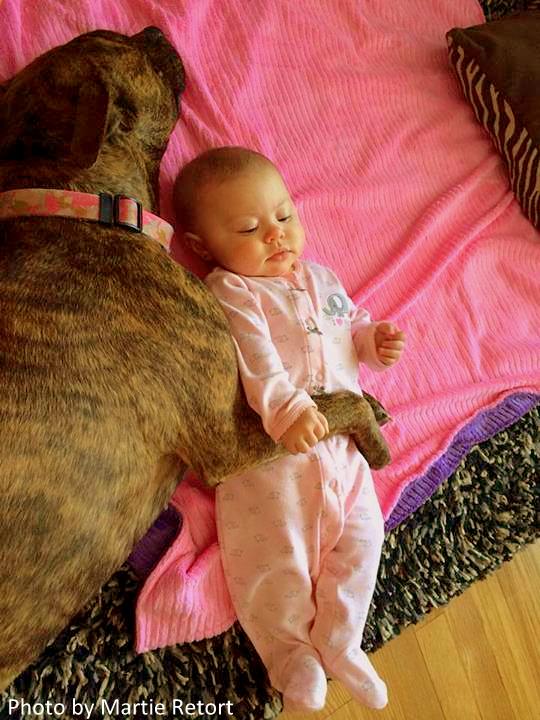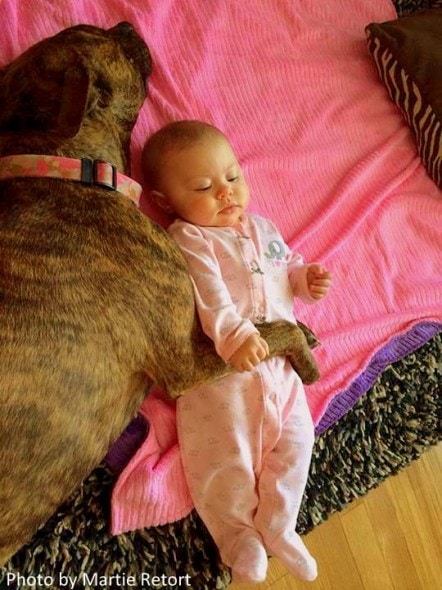 I think the majority of the pictures I have of Hope are of her in the arms of someone who loves her. Here she is holding her new baby sister. She knows what love is…..Thank you Hope for reminding us that shelter life is not real life. When in a good home the greatness of a shelter dog shines through.
"I strongly believe that shelter dogs are the best dogs," said Hope's mom, Martie. "I'd do it all over again! She is so grateful for her life and we've never had to question making the decision of adopting her. She follows me everywhere, definitely knows who rescued her. [I] wouldn't trade it for the world! [I] just wish there were more stories like this."