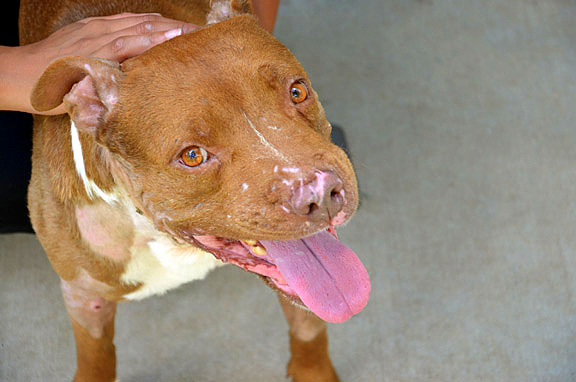 A couple weeks ago we brought you the story of Frodo, the pit bull that had been left tethered to a fence in Kentucky, his muzzle tightly taped closed. He is on the road to recovery and is doing much better.
"He clearly, in my opinion, was a bait dog and this is not the first time being thrown into a ring," said Rebecca Eaves, director of The Arrow Fund, who takes on abuse cases and adoptions. "Basically, a dog got him here, broke his canines and pushed them in."
Frodo was treated at Blue Pearl Veterinary Partners for his numerous bites, detached jaw and leg that needed to be amputated. He is now under the care of Dr. Missy Jewell of All Pets Veterinary Center, where he continues to bring smiles to the staff with his friendly, loving demeanor.
"For a dog to have endured what Frodo did, it's just hard to believe he still wants to be around humans, but he does," Eaves said. "That's their spirit. That's what's so often in their hearts – this unconditional love."
There is no word yet on when he will be ready for adoption.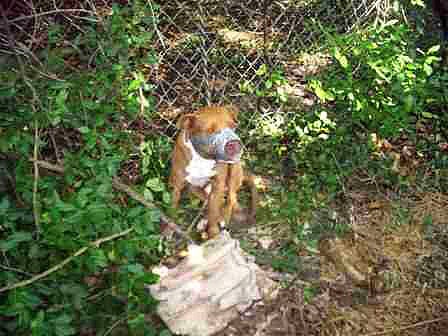 Frodo was found on the 2600 block of W. Kentucky St. in Louisville. The Humane Society is still offering a $5,000 reward for information leading to the arrest and conviction of the person(s) responsible.
Eaves is thankful for the incentive for the public to come forward, because she knows what happened to Frodo is indicative of a larger problem.
"I'm not afraid to go on record and say I believe we have a dog-fighting problem in this community – and a serious one," she said. "The evidence is clear: Frodo was used as a bait dog. He was rescued, but think about the ones who have not."
If you have any information, please contact Louisville Metro Animal Services. Their phone number is 502-363-6609.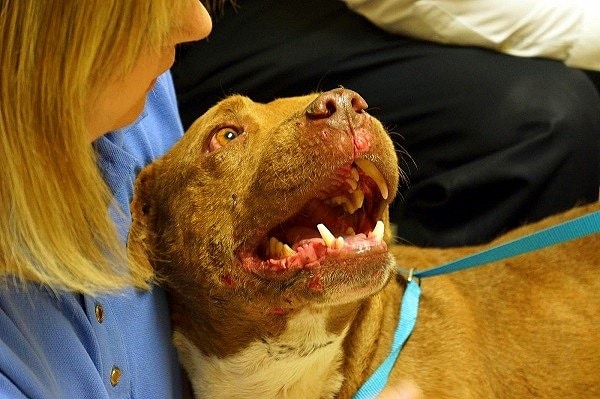 If you are interested in adopting, donating or just more information, please visit The Arrow Fund. They will be holding a fundraiser on Saturday, July 20 from 2 pm to 4 am at The Back Door and Grill in Louisville. They will donate 100 percent of all food sales, as well as match up to $2,000 to help The Arrow Fun provide care for abused, tortured and neglected animals.
"I hope we have a great turnout and a successful fundraiser for The Arrow Fund and all the dogs and cats who have been saved as a direct result of the work they do," said John Dant, owner of The Back Door. "I have a soft spot for animals and have always liked to give back to the nonprofits in town that make such a difference right here in our own community."
Additional updates and adorable photos of Frodo can be seen here.
WARNING: The incredibly sad Sarah McLachlan song is used in this video, so if you would like to watch it, you might want to turn the volume down first.