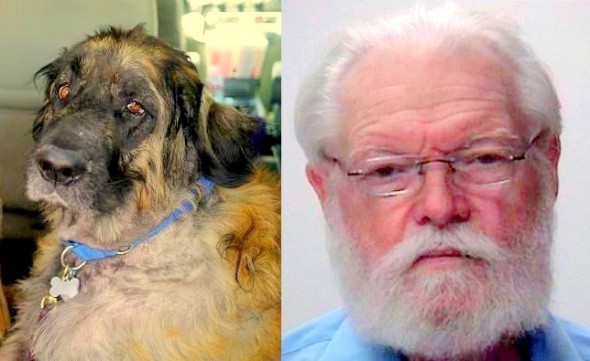 The vampire vet of Texas, Lou Tierce, who told a family their dog needed to be euthanized but then kept him in a feces-filled cage for months to use him for blood transfusions, has had his medical license (at the very least) suspended and has been charged with animal cruelty.
Dr. Millard 'Lou' Tierce turned himself in to the Tarrant County Sheriff's Office around 7 pm on Wednesday after the accusations against him went public.  He has been charged with cruelty to (non-livestock) animals.  He was booked and quickly posted $10,000 bond.
Marian and Jamie Harris received a phone call from vet tech Mary Brewer alerting them that their dog, who they believed had been euthanized due to a degenerative spinal disease back in October, was alive and had been kept in a cage every day for the last six months so Tierce could use his blood for other dogs.
The Harrises stormed into the Camp Bowie Animal Clinic and found Sid in a cage in a back room.  Attorney James Eggelston said outside vet determined he had mange and showed clear signs of abuse and having been used for transfusions, but did not exhibit any signs of the disease Tierce said he had.
Tierce has admitted to holding onto five animals due for euthanasia, according to the order of temporary suspension.  The order also said there were unsanitary conditions at the clinic.
"Animal organs were kept in jars throughout the clinic. Bugs were visible in exam rooms. Stacks of drugs, trash, laundry, paperwork and other miscellaneous items were strewn about the examinations rooms, hallways, stairwells, operating room, laboratories, and offices of the Clinic," the documents said.
For our original story, which includes a two-page document from the attorney, click here.