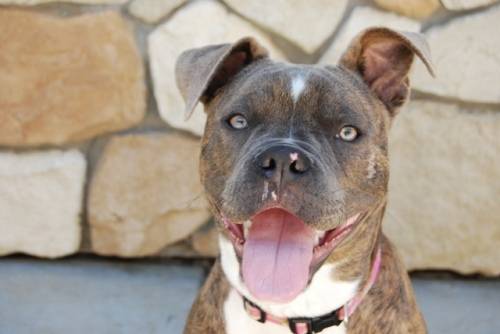 Gracie is a sweet boxer mix who is just 10 months old but has most of her short in the Sacramento County Animal Shelter waiting for a home.  Poor Gracie suffers from a medical condition that has made people reluctant to adopt her, and her time is running out.  If Gracie is not adopted very soon she will likely be euthanized.
The condition that Gracie has is an esophageal abnormality that affects the way her food digests, causing her to aspirate food/water into her lungs, which then causes "aspiration pneumonia".   This is a rare condition but if managed properly Gracie can live a normal happy life.  The main thing she needs is to eat in an upright position, in a special high chair called a "Bailey chair" which is a specially designed dog highchair. The other option is to treat her with medication to aid her digestion.
Gracie takes about 30 minutes to eat, twice a day and after eating should rest for a while in her crate but is otherwise happy and well adjusted. She gets along well with large male dogs and would love to have a home with older children and a yard where she can be her exuberant puppy self. Other than her medical condition Gracie is a normal puppy, active, silly, cuddly, loves car rides, loves to play, sleep on the bed, and eat ice cubes.  She is 50 pounds, spayed, has loads of energy and is a fast learner.
Please help Gracie find her forever home. If you would like to know more about adopting Gracie please email [email protected] or call 916-202-1699 or 708-359-6843.  She deserves to live a long life and will love you forever if you give her a chance.