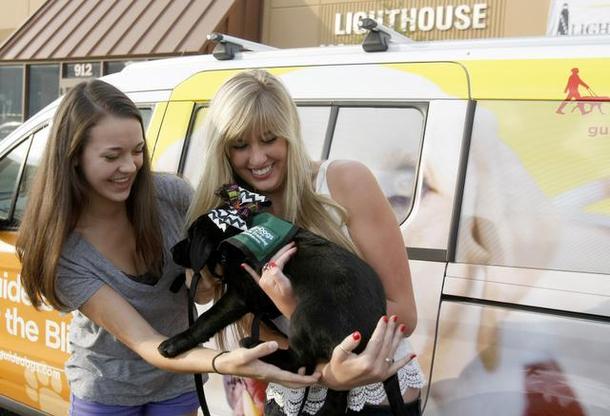 In Fort Worth, Texas, six Labrador pups were given to volunteers to raise as potential guide-dogs for the blind.  The puppies came from the California based Guide Dogs for the Blind as part of an expansion of efforts into the state of Texas.
The idea works like this; the puppies are typically Labrador or golden retriever breeds.  They come from the Guide Dogs headquarters in California, and are brought out to many states, now including Texas.  They will live with volunteer "puppy raisers" for 15 to 18 months.  This gets them socialized and gives them the most basic of their training.
After this period of in home training, the dogs are then brought back to California.  This is where they undergo rigorous guide-dog training.  It usually takes about two months to get the dogs into ship shape.
People from Fort Worth, Arlington, Granbury and many other places in Texas collected their new charges outside of the Lighthouse for the Blind of Fort Worth.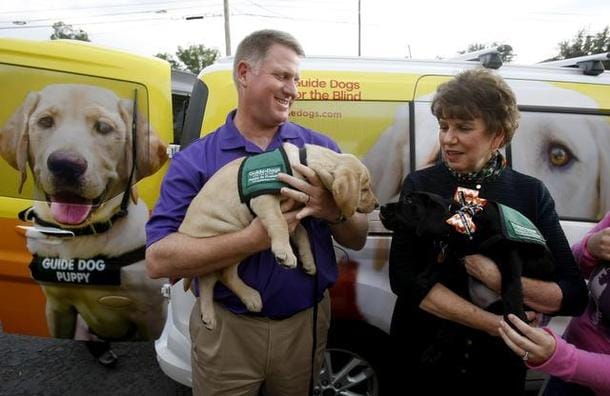 The trainers will get the dog used to being in public places among other people, and to basically ignore them.  There won't be any puppy games of fetch for these little guys.  They'll be going to the supermarket, stores and churches and not playing fetch or with other puppies.
After socialization and training are completed, about 60% of the dogs in the program will go on to assist the blind.  The ones not doing that will be used as search and rescue dogs, or with persons having any number of other disabilities.
Guide Dogs for the Blind representatives say that the free services they provide save individuals with disabilities anywhere from $80,000 to $100,000 in the cost of training these dogs to do the vital jobs each will eventually hold.  The group is totally non-profit, and relies solely on donations and volunteers to keep them going.
If you'd like more information on Guide Dogs for the blind, go to welcome.guidedogs.com, or click here.