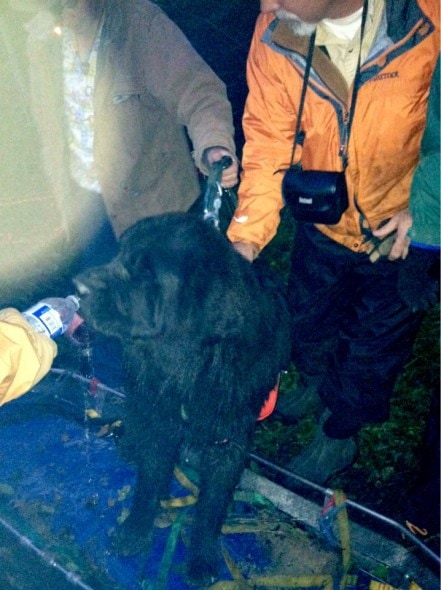 For three days volunteers searched to find Moses, A Newfoundland that fell over cliff while hiking near the Rim Trail in Washington State. Finally on Tuesday he was found and brought to safety.
Moses is a rescue dog himself, he is trained to rescue swimmers in distress, but this past weekend he was the one in need of rescuing.  While hiking on Saturday in the Mud Mountain Recreation Area Moses fell off a cliff and was lost.
Quickly groups of volunteers were searching for the large black dog. Washington Animal Response Team, Seattle Mountain Rescue and King County 4×4 all worked together to try to find and rescue the dog.
Finally on Tuesday Moses was located barking and walking around 175 feet down the mountain from where had gone missing. A volunteer rigged with a harness was lowered over the cliff and strapped Moses to a rescue basket. Moses was hen hauled up the mountain and reunited with his family.