The city of Buffalo recently spent $26 million on new equipment for the fire department, but one woman noticed that something crucial was missing – pet oxygen masks.  So she and her husband donated 53 of them – enough for every fire truck in the city.
Ann Louise Ciminelli and her husband Louis, CEO of LP Ciminelli, donated $5,000 worth of pet oxygen masks at a special ceremony at City Hall last month.  She brought along her West Highland terrier, Minnie.
"We have a lot of new equipment, but didn't have these," Fire Commissioner Garnell W. Whitfield said.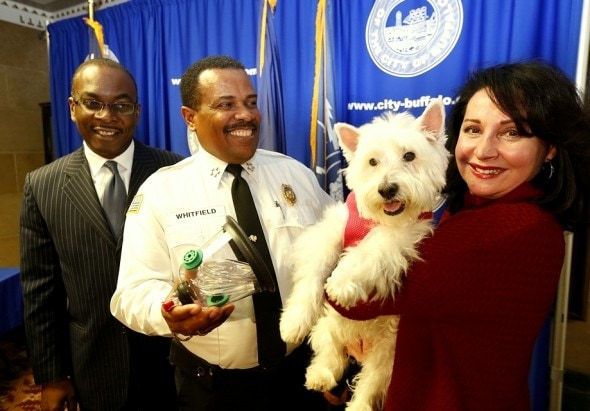 ………………………………………………………………………………………………………….
He knows that a couple of dogs have died in house fires in the last few months, and having the oxygen masks might have saved them.  On some occasions, firefighters have saved pets by performing mouth-to-mouth resuscitation.
"Buffalo firefighters do a tremendous job rescuing pets from burning structures, but unfortunately many pets perish from smoke asphyxiation and that's why we wanted to give this life-saving device to the Fire Department," Ann Louise Ciminelli said at the press conference.
Mayor Byron Brown was also in attendance, and thanked the Ciminellis for their foresight and generosity.
"Pets are more than pets, they are members of our families," Brown said.