After suffering a machete slashing that left a large gap across the top of his snout, Tyson, a rural dog from Nicaragua, spent more than a year living with pain and an untreated wound prone to infections, but thanks to a Canadian veterinarian who met the dog over social media, the dog packed his bags, flew to Canada and got a brand new snout.
In October we introduced you to Tyson and at that time, Dr. Graham Thatcher had already promised the Nicaraguan dog he would help fix the pet's snout injury. However, the dog's travel arrangements were canceled at the last minute, when the airline booked for the trip canceled on the four legged passenger.
Luckily, new travel arrangements were secured and just a month later Tyson stepped on Canadian soil.
The surgery to close the large hole on the dog's face couldn't happen right away because Tyson needed extensive medical examination to determine the surgical path to take. The dog also needed to be healthy enough to undergo surgery, and once the pet met all the surgical criteria, surgery was scheduled.
Tyson's much needed oral reconstructive surgery took place December 1st and it was a success.
"His maxilla and palate were re-attached with plates and screws. Soft tissue reconstruction was performed. He is stable and should make a full recovery," Dr. Graham Thatcher told CBC Canada News.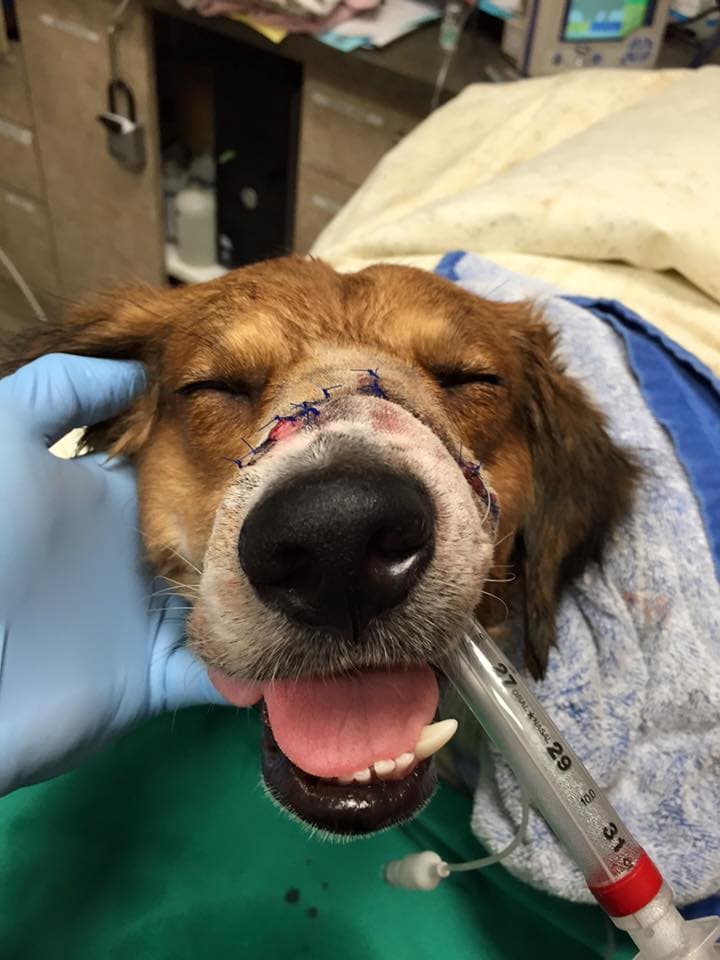 Tyson is expected to make a full recovery.  The dog does have caring, loving owners back in Nicaruaga but we don't yet know if the pet will be going back to his native land or he will permanently stay in Canada. Tyson's owners looked after him and provided him with as much medical assistance as they could afford, but the reality is the procedure to reconstruct the dog's muzzle was not an option for the dog in his native land.
We don't know what's in store for the dog's future, but what we do know is Tyson's quality of life has greatly improved now that he's had his surgery.
To learn more about Tyson, follow him on his Facebook page, Tyson the Wonder Dog.