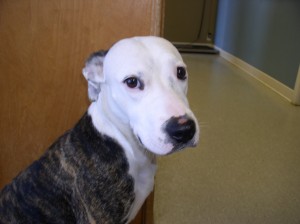 Before Lucille arrived a year ago I was just an ordinary dog owner. We've had Maggie for the past seven years. Then, one day last July my son who works at a vet called me at work and said, "Mom, do you want a pit bull?"
My first thought was not even "NO" it was "HELL NO." But he urged me to come meet Lucille. She'd been dropped at the vet by a Good Samaritan who'd found her wandering. She had a dislocated hip and looked starved to death when I first saw her at the vet's. My son said she needed a Mom. So I took her home to nurse her to health. Since then I've become a dog rescuer, advocate for homeless dogs and volunteer.   – Cherie K. Miller
This is Elmo. It is very obvious what his previous owner had in store for Elmo. My fiance and I adopted Elmo from the cruelty officer who was investigating the origin of Elmo's ears. When Elmo was just a pup, I believe they said he was a mere 8 or 9 weeks old, his owner took a pair of kitchen scissors and hacked off his ears.
Thankfully, a group of high school students witnessed this and when night had fallen, broke in to the yard and whisked Elmo to the local SPCA. The ears had become infected, he was under weight, and had a skin infection. I myself was in equally as rough of shape, I had been laid off in the massive education cuts and vowed that when I was hired, I would adopt a dog. The day I was hired, I called the shelter and Elmo was available. Our luck has changed for the better since that day, and I now see him as my lucky charm!
Gadi, the Vicious Dog
My big boy was in the van to be put down after biting a 3rd person at the rescue. I took him in as a foster but after 6 months realized no one would understand him like I do. He was Valedictorian of his training class. I have 7 other rescues, my favorite breed!  -Randi
Have a great rescue story to share? Nothing makes us happier! Upload your dog's picture here and we'll share the most interesting submissions.